Silt Saver recently received a picture and this background story from a respected colleague, Hall Lunsford, Lunsford Environmental, LLC. We just had to share it with you.
LUNSFORD ENVIRONMENTAL
Hal Lunsford is a 40-year veteran environmentalist who graduated from the University of West Florida with a bachelor's degree in Earth and Atmospheric Sciences and holds a Master's Degree in Public Administration. Hal is an active member in the U.S. Green Building Council and The International Erosion Control Association (IECA) Southeastern Chapter recently elected Hal to his second term as the Florida member representative.
Hal recently retired from the Department of Environmental Protection (DEP) in Tallahassee as the Statewide Training Coordinator in stormwater erosion and sedimentation control. He began his career working for the Department of Environmental Regulation in 1986, which later became the current DEP. Hal has taught erosion and sediment control classes since 2000 and has more than 10 years of private sector experience in construction inspections and is considered the leading expert in this field. Hal's educational program contributions have helped evolve the program for industry and citizens to help save Florida's beautiful waterways.
Protection of our wonderful environment is the paramount focus in Hal's life and career as a professional environmentalist.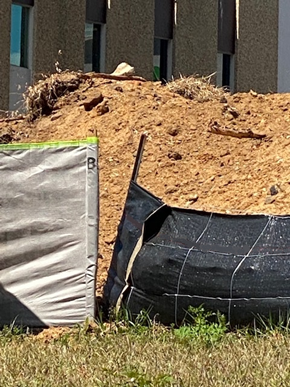 Hal wrote:
This is from a recent inspection site that I am still monitoring. The first General Contractor decided to disregard my SWPPP and installed the FDOT TYPE III which is a non-woven wire backed silt fencing supported with T-post on the initial installation instead of my recommended BSRF Priority 1.  Later, after multiple failures of the FDOT TYPE III a new General Contractor was hired, and he installed BSRF Priority 1 as I had first recommended in the SWPPP.
My lesson here is don't assume that the General Contractor knows the first thing about sediment or erosion control or even picked up and read the SWPPP that you had spent many hours writing to help him start off right.  Communication is one of the most important BMP to start off on the right foot.  Second, always start with a strong performance-based BMP such as the Silt Saver Priority 1.  Saving a few bucks initially on cheap FDOT TYPE III will cost you starting off with an underperforming BMP that fails to stop sediments and starts a domino effect of failures throughout the job site.  Then you end up spending more time and more money that you could have prevented had you initially installed a performance-based BMP.  Best said by Benjamin Franklin, "A penny poor and a pound foolish!"
Hal Lunsford
Lunsford Environmental LLC
24092 Lanier Street
Tallahassee, FL. 32310