I like working at Silt Saver! I like what I do! I get along with everyone I work with! I plan on working here for a long time!!!
David Simkus
January 1, 2022
Nice establishment!!!Very professional along with customer service 😀
Terrance Sturdivant
November 23, 2021
Lunah Tic
November 20, 2021
Silt saver is a great place
Joseph Mcgill
October 25, 2021
Great, innovative erosion control products.
Mark Walton
August 14, 2020
Their products really work.
David Goff
May 27, 2020
Overnight parking.. Fast loaded.. very friendly people. It's all clean, nice and new company.
Andrei Cosolovschi
May 8, 2019
Professional environment. Great People. About Business
Julian Mills
May 3, 2018
Their products do what they say they do. I can recommend them.
surreal days
September 17, 2017
They make a great product,
Brian E
March 21, 2017
Hall Lunsford, Lunsford Environmental, LLC.
LUNSFORD ENVIRONMENTAL
Hal Lunsford is a 40-year veteran environmentalist who graduated from the University of West Florida with a bachelor's degree in Earth and Atmospheric Sciences and holds a Master's Degree in Public Administration. Hal is an active member in the U.S. Green Building Council and The International Erosion Control Association (IECA) Southeastern Chapter recently elected Hal to his second term as the Florida member representative.
Hal recently retired from the Department of Environmental Protection (DEP) in Tallahassee as the Statewide Training Coordinator in stormwater erosion and sedimentation control. He began his career working for the Department of Environmental Regulation in 1986, which later became the current DEP. Hal has taught erosion and sediment control classes since 2000 and has more than 10 years of private sector experience in construction inspections and is considered the leading expert in this field. Hal's educational program contributions have helped evolve the program for industry and citizens to help save Florida's beautiful waterways.
Protection of our wonderful environment is the paramount focus in Hal's life and career as a professional environmentalist.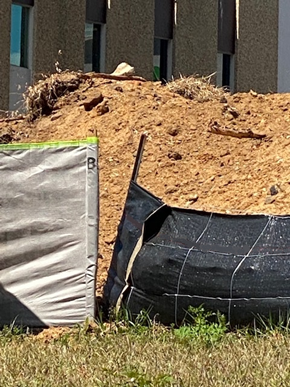 Hal wrote:
This is from a recent inspection site that I am still monitoring. The first General Contractor decided to disregard my SWPPP and installed the FDOT TYPE III which is a non-woven wire backed silt fencing supported with T-post on the initial installation instead of my recommended BSRF Priority 1.  Later, after multiple failures of the FDOT TYPE III a new General Contractor was hired, and he installed BSRF Priority 1 as I had first recommended in the SWPPP.
My lesson here is don't assume that the General Contractor knows the first thing about sediment or erosion control or even picked up and read the SWPPP that you had spent many hours writing to help him start off right.  Communication is one of the most important BMP to start off on the right foot.  Second, always start with a strong performance-based BMP such as the Silt Saver Priority 1.  Saving a few bucks initially on cheap FDOT TYPE III will cost you starting off with an underperforming BMP that fails to stop sediments and starts a domino effect of failures throughout the job site.  Then you end up spending more time and more money that you could have prevented had you initially installed a performance-based BMP.  Best said by Benjamin Franklin, "A penny poor and a pound foolish!"
Hal Lunsford
Lunsford Environmental LLC
24092 Lanier Street
Tallahassee, FL. 32310
Silt Saver Inc.
Average rating:
6 reviews
Mark Walton, GA PE 25863, Patrick & Associates, Inc.
May 7, 2021
Please accept this letter as my endorsement of Woyen Belted Silt Retention Fence (WBSF-C) and Woven Belted Silt Fence 2 - stage (WBSF)for approval as "Equivalent BMPs" per the requirements as described by the GSWCC; they both are sensitive sediment barriers(SDI-S). Both products are the creation of Silt-Saver, Inc., a company well known for their innovative and effective erosion control products.

We have added both sediment barrier fences to several of our site plans in Rockdale County, along with the required notation. During the course of constrtiction both products provided, in my opinion, superior silt retention to conventional sensitive sediment fence. The fences were installed on the sites during the first week of March 2017 and monitored through June 2017. During this period there were several notable rainfall events, April 6th - over 1", April 23 - +/- 1.5", May 23 - +l-1.5", June 20 -+/-1" & June 21 - almost 2". During the site evaluation period both products performed well. In all rainfall events the support provided by the belting strips held up very well. In the two day June rainfall event a double row of the WBSF had the upstream row completely fill and the second row almost fill with silt. Based on the actual performance additional support, typically used with a C, or Snesitive, type of silt fence is not needed because of the integrated support material. In this rainfall event it was evident that in the upper section of the 2-stage fence Jhat the superior flow characteristic allowed the greater flow to pass through while still providing. sedime:nt control. In addition to my visual observations and opinions, Silt-Saver, Inc. has had both produets quantitatively tested by Tri/Environmental, Inc.

If you have any questions or concerns, please feel free to contact me.


James W. Spotts, PH.D., CPESC, Southeast Environmental Consultants. Erosion & SEdiment Control Services
May 7, 2021
Introduction

During the period, December 14, 2017 through August, 2018, the undersigned was employed by Silt Saver, Inc to serve as a Contract Inspector to monitor erosion and sedimentation activities during construction of a new facility on the site located at 1200 Forester Cemetery Road, Walnut Grove (Walton County) GA 30014. The basis for observations was the BMPs (Best Management Practices) identified on the approved Erosion and Sediment Control Plan dated 10-30-2017.

During construction, some alternatives to the specific BMPs was made, based on the terrain and common BMP characteristics. Specifically a Woven Belted Silt Fence (WBSF) manufactured by the owner was installed in lieu of the Sd1-NS wire-backed fabric and iron posts spaced at 4-foot intervals, the WBSF incorporates several bands of reinforced belts woven into the fabric. The purpose of these bands was to reduce the "horizontal sagging" of the fabric between the posts, and to provide a bigger surface contact for the staples used to attach the fence to the wooden posts.. Land disturbing activities were completed and the inspection program was terminated in August, 2018.

Temporary Sd1-NS silt fences are required to be removed when the project is completed. However in this case, the fences were retained in place to evaluate their possible degradation over a longer period of time. The criteria for evaluation included a visual inspection for horizontal sagging of the fabric, and resistance to puncture resistance of fabric due to environmental factors.

Observations

Initial observations indicted that the fabric was still securely fastened to the posts. The use of metal staples provided more contact area of the fabric with the wood posts. Horizontal sagging of the fabric between the posts was minimal. The weight of sediment that accumulated at the foot of the fence did not compromise the fence height. (See photo).


Attempts to penetrate the fabric failed in each case. The integrity of the fabric did not deteriorate significantly over time.

Conclusions

It was my observation that the WBSF fabric and wood stake system developed by the owner and used on this site was effective or more effective than other approved practices and products nearby that
were non-effective and showed the impacts of environmental degradation.


James R. Barrett, C.P.E.S.C, Regulatory and Compliance Manager Virginia Department of Transportation
May 7, 2021
In August, 2003 Curtis Contracting agreed to try the Silt Saver on the entrance road into Jamestown Festival Park, a project to improve the entrance prior to the 2007 celebration of the 400th Anniversary of the establishment of the first permanent English colony in the western hemisphere at Jamestown. Shortly after the installation a hurricane came through and did significant damage to the graded slopes and roadbed. The Silt Saver protected open inlets from receiving significant amounts of sediment when the inlets were overtopped with sediment-laden water from the heavy rain that accompanied the hurricane. An inspection following the storm revealed the Silt Saver still in place and functioning while the rest of the project was being cleaned up.
May 7, 2021
The silt saver units were used on the Route 359 relocation project. This project was a segment of the PPTA project of which we were a 33% owner (Jamestown 2007 Corridor Constructors). We used the units as a test site for VDOT's evaluation of the units. I fully endorse the units, they did an excellent job during one of the worst hurricanes to hit Williamsburg in decades. Our project was adjacent to the Colonial National Park, Jamestown Island and tidal waters of the James River.
J.P Johns, PE, McGill Associates, P.A.
May 7, 2021
This letter is in response to the utilization of the Silt-Saver Belted Silt Retention Filter (BSRF) system on the Riverwalk of Highlands development site located in Highlands, North Carolina. McGill Associates was contracted by Riverwalk to help mitigate existing impacts to the Cullasaja River. McGill Associates did not design the original sediment and erosion control plans, and became involved with the project after the Town of Highlands issued several Notice of Violations (NOVs) on the development site.

One particular area of interest was the discharge of sediment laden and turbid waters directly to the Cullasaja River which is designated as Trout waters. The mitigation plan for these impacts included adding sediment basins, adding check dams, adding turf reinforcement matting, stabilizing the site, and utilizing BSRF.

The BSRF was particularly effective in minimizing the sediment/turbidity plume that was visible in the Cullasaja River. Prior to installing the BSRF, the BMPs being utilized included traditional wire backed silt fence and straw bales. The properly installed BSRF system is more effective than the wire backed silt fence that was installed per the original set of erosion control plans and is still providing effective sediment removal from the discharge to the Cullasaja River.

 
John W. Sanders Graduate Student, Department of Earth and Planetary Science UC Berkeley
May 7, 2021
It is a pleasure to be writing a letter of praise for Siltsaver™ fabric, which we used extensively during a field expedition to a small cirque glacier in the Canadian Rockies this summer. Our group spent two months studying the motion and melt of the West Washmawapta Glacier, British Columbia, as part of a collaborative project funded by the National Science Foundation. The group includes scientists from UC Berkeley, Macalester College, University of Alberta Edmonton and the United States Geological Survey. Over three field seasons, we hope to gain insight in the mechanics of small glaciers and how they are able to create cirques (the amphitheater shaped basins frequently found at the head of glacial valleys).

Our camp's water supply is a small meltwater stream exiting the glacier, which carries silt-laden water and other organic detritus (algae, insects, etc.). We were concerned that consuming silt for two months would cause health problems and, accordingly, went in search of a filter system that 1) could process large quantities of water rapidly (our camp supports up to 8 researchers at a time), 2) is inexpensive, 3) would not clog quickly, and 4) is designed for macroscopic matter rather than microscopic contaminants such as giardia.

We first became aware of Siltsaver™ fabric a month before our expedition and immediately became excited by its potential. It met all the criteria listed above and came in sheets large enough that we could customize its size and shape for use in our camp. Ultimately, we used square sections ~50 em across to cover 5 gallon buckets, but other systems (say, over a Nalgene bottle) could easily be implemented if necessary.

By allowing us to avoid using microfilters, iodine, or boiling water, Siltsaver™ fabric saved us hours of work preparing water for consumption. It took less than 5 minutes to supply our entire water needs for three days. We are very grateful we discovered Siltsaver™ and highly recommend it to any outfit or organization that requires silt filters for outdoor activity .